Sing Your Heart Out: Platteview Musical Auditions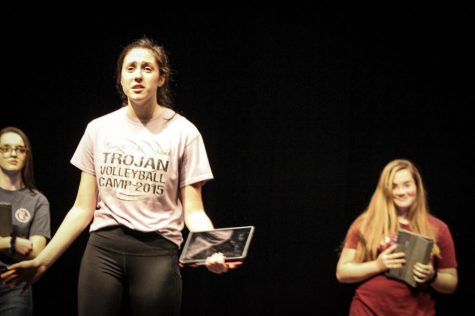 The most anticipated time of the year for most Platteview Choir students appears when Mr. Matt King, vocal music teacher at Platteview, announces the Spring Musical. Joseph and the Amazing Technicolor Dream Coat will be showing on March 7th and 8th, 2019, at 7:00 PM in the Platteview High School Auditorium. Students had the opportunity to audition on Tuesday, December 18th during or after school with callbacks for specific characters on Wednesday, December 19th, 2018. Anyone in the student body was eligible for auditions.  
Senior Alyssa Gourley has auditioned for the Spring Musical all four years of her high school career. This year, she did some research and went on YouTube to watch the original production with the sheet music in front of her. "It really helps me understand the mood that I need to put into the piece," said Gourley. "Afterwards, I would sing along with the original cast and, once I was confident, move on to singing the practice tracks by myself." Gourley received a call back for the part of Narrator on Wednesday, December 19th (2018).  
On the other end, Ella Kiger auditioned for the first time this year. She said, "It was fun! I auditioned during my study hall so there were only a few other people in the room (which was nice). It was a pretty quick and painless process. He set up a camera to record, asked if I was ready, and played the accompaniment pieces." Kiger said that to improve her audition, she could have "been more animated, I was pretty shy."  
Ryan Tolliver, a sophomore this year, auditioned and was called back for multiple roles. He auditioned for last year's (2017-2018) production – You're a Good Man, Charlie Brown – and loved being involved in the production. Tolliver offers this advice to those contemplating auditions for years to come: "[You] should audition. You can usually do better than you think you can, and it'll give you experience so you'll be less nervous next time." 
The cast list is to be posted on Friday, December 21st. Good luck to all those who auditioned!