The New Normal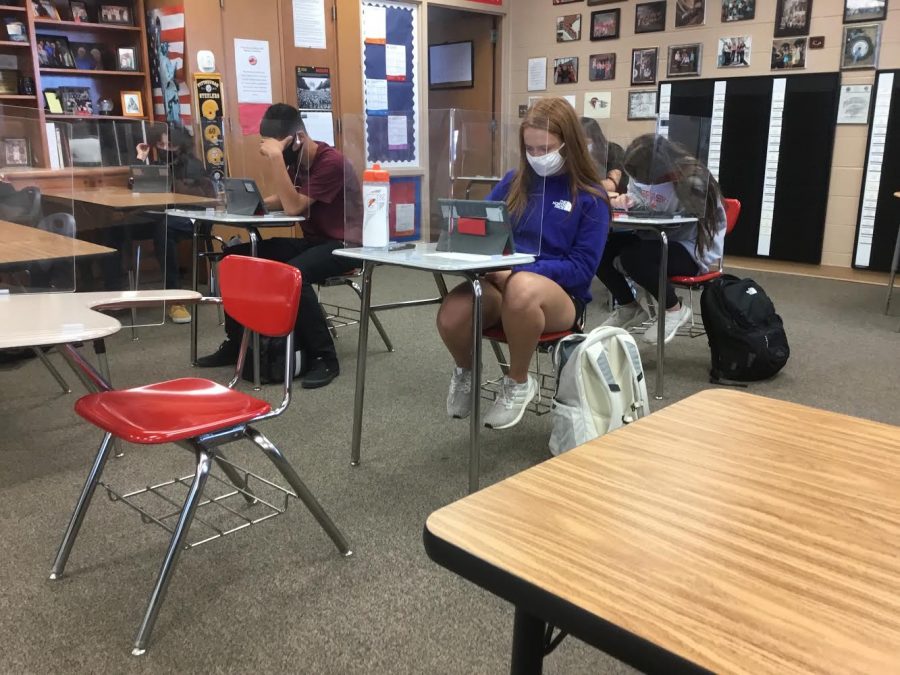 Recently the lives of PHS students have been drastically changed, and more changes seem to come everyday. Some of these new changes include requirements to wear masks inside the building, plexiglass shields placed on all desks inside the school, switching to block scheduling to limit movement in the hallways, teachers take the last ten minutes of class to clean off desks and equipment, and hallway traffic has been changed throughout the school.
Almost every part of the school day is affected in some way by the new rules, whether it's where students sit at lunch or how they get around the school. Ryan Grell (a junior), when asked about what he thought of the new procedure, said "It's a lot of new rules to follow, but I'd rather have school open." This is a common attitude in the school; some of the rules may be difficult, but by following them, students and teachers alike can work toward school staying open.
Another new alteration to the procedures at Platteview is E-Learning. For various reasons, some students have opted to learn online at home. Unfortunately, this can create more difficulties for people both in school and people outside of it. Noah Eurich, a junior who is E-learning, said, "It's really hard to stay focused at home, as I'd rather be messing around at home then doing school work." Many students at home may also feel that there are a lot of distractions or challenges. However, if both students and teachers work together on these challenges, it'll allow students to learn from where they feel safest without compromising their learning.
These challenges – and more – are now a part of the "new normal" at Platteview High School. However, even with all of the new restrictions, it won't change PHS's ability to have a great school year.