Band Update: Marching to a New Tune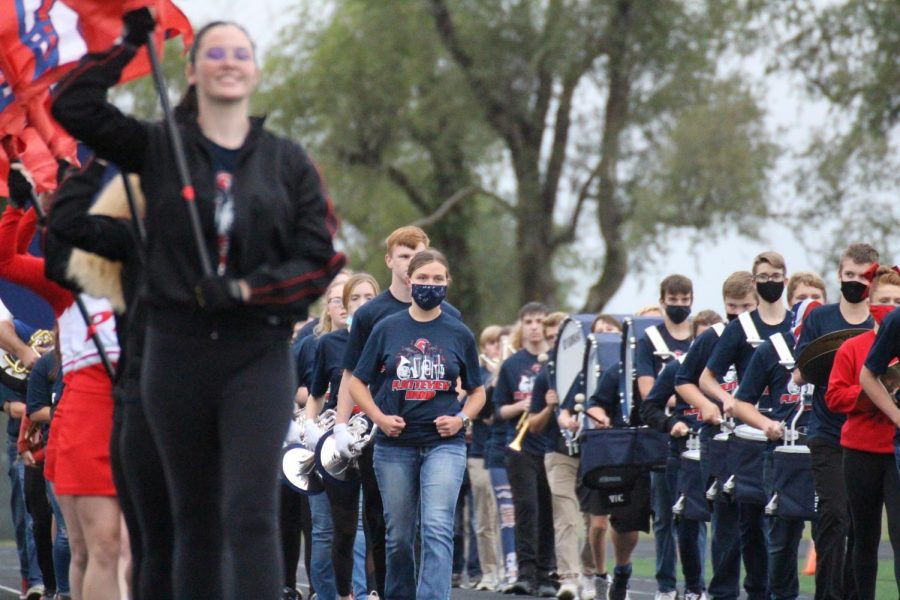 Platteview High School's 2020-2021 PHS Band year, like many other activities, is vastly different than years before. Students have placed bell covers on their instruments while playing inside the school, some competitions have been canceled, and the "six feet distance" rule continues to create new challenges. However, the mantra of the year seems to be, just like the show, the Band must go on.
Traditionally, the Band begins their yearly preparations with summer practices; however, this year they were cancelled. This left some Band members felling unprepared. Claire Snodgrass (12) said, "This year has been wildly different for the band. In a typical year, we practice every Monday night during the summer, and have an 8 hour, week long band camp. Neither of those two things happened."
There are plans for the Band to take part in some contests. Band Director Mr. Layher said, "On Saturday, October 17th, the Ashland Oxbow Marching Festival will be held. It may not look like it has in the past as a complete contest, but it is being held – and the PHS Marching Band will be there to perform." The band will play songs like "You Dropped a Bomb on Me," "Play that Funky Music," and "Let's Groove" at upcoming events.
They key to Band's progress and continued momentum this year is the persistence of the directors. "The rest of the band and I are so grateful for the amount of work the teachers have put into band this year so we could have a semi-normal class," said Snodgrass. "On the performance side of things, we had been unsure if we would be able to perform anywhere, as the state competition was cancelled a few months ago." Furthermore, the directors are excited by the capabilities and resilience that the members have put into this year so far. Mr. Ketchen told the band, "You guys have really come along far with how much less time we have had."
Though there has been less time to practice, there is still time for memories. Andrew Dierking (10) reminisced about a particular moment, saying, "The night of the first football game we did the Go Big Red cheer, and my section did it really loud. It was exciting to show our support."
Along the way to performances, upperclassmen have also seen many improvements in the younger classes. Tim Stork (11) said, "Band is going really well. Considering the struggles we faced early on, we're in a great position."
The ongoing struggle has made it difficult for the Band to do many of their usual activities, such as competitions, having sufficient time to rehearse, and playing at halftime for football games. However, the band has shown that there are ways – no matter how meager – that band can still enjoy a regular year.
The PHS Band can be seen playing at the beginning of home football games, such as during Homecoming on October 2nd, and on October 16th.