Beginning a New Drive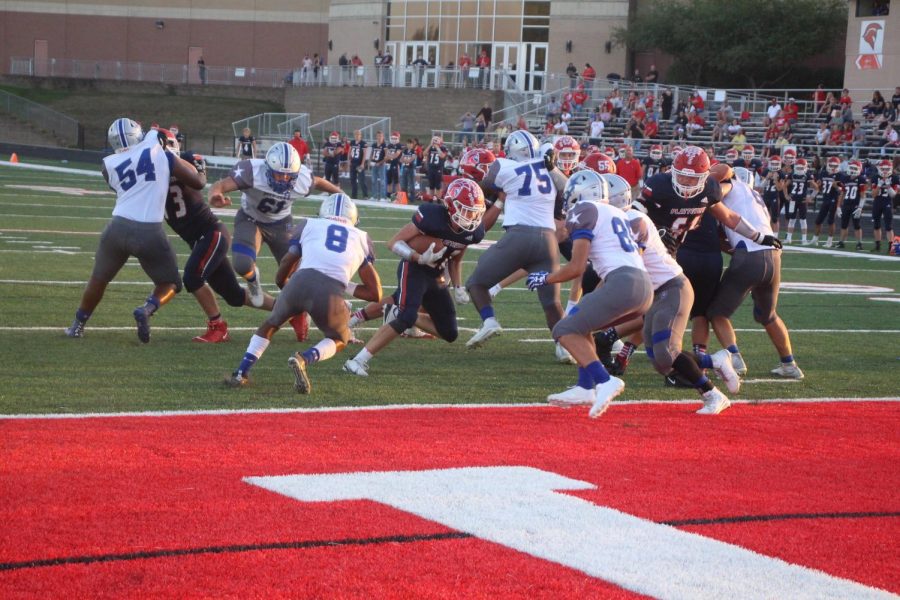 The 2020 Homecoming Platteview Varsity Football game will be against the Raymond Central Mustangs and will be the first home game against a conference opponent in the newly created Trailblazer Conference. After a tough loss Friday, September 25, versus Wahoo, the team is ready to start a new drive.
Leading Platteview's efforts are a core group of six seniors, namely Carson Ross, #11; Dylan Roesler, #12; Brennan Campbell, #53; Ben Weis, #62; Shayel Menges, #65; and Kayden Wallis-Collier, #74. "Our senior class is small in quantity," said Coach McLaughlin, "but they do a great deal for us in terms of leading by example and doing what they can for the team." The experience and dedication of these athletes provide structure for the underclassmen to build upon while preparing them for the next season, and structure and rhythm are exactly what will be needed against the Raymond Central Mustangs.
The Mustangs come into the Homecoming game 4-1, their only loss against top-10 ranked Ashland-Greenwood. Meanwhile, the Trojans stand at 2-3, with losses to ranked Auburn, conference juggernaut Wahoo, and Falls City. Raymond Central is ranked higher than Platteview, but the Mustangs have enjoyed dominating weak teams like Schuyler and Fort Calhoun. Reed Patera (9), #42, is hopeful that the football team will take advantage of the home turf, saying "I love playing in front of a home crowd and the thrill that comes with it."
The football team has dramatically changed from the previous year – only three starters were left to resume their roles. Instead of 17 seniors, the team has six, which has resulted in young – though very talented – starters. By grade, there are 24 juniors, 13 sophomores, and 10 freshmen – which will be fortuitous for next season. Now, young starters are gaining invaluable experience on the field. 
One of the foremost stars of the season is Jared Kuhl (10), #13. Kuhl has performed prodigiously as a starter, with a passer rating of 115.6, an average of 8.4 yards per attempt, a 70.6% completion rate, and two touchdown passes. Teammates Cael Wichman (10), #22, has accumulated 343 yards and four touchdowns from scrimmage and Dayton Swanson (11), #27, has amassed 112 yards from 8 passes. On the other side of the ball, Nicholas Horst (11), #50, leads the team in tackles with 49, Cody Metzger (11), #52, caught an interception and blocked a field goal, Reed Patera (9), #42, returned a fumble for a touchdown, and Alex Draper (10), #80, caught a pick-six. 
These players represent the dedication of the Platteview football team, but the Mustangs are not without their own skilled athletes – particularly junior quarterback Conner Kreikemeier. In his first two games, he had 205 yards and three scores on the ground and 251 yards and two scores through the air. Coach McLaughlin warned that Kreikemeier is "a tremendously athletic QB. Our defensive line will have to play well." 
While football is a sport of physical conflict, athletic prowess, and strategy, athletes remember it is also a brotherhood. "The bonds [I've] created with my teammate and coaches are like no other," said Cael Wichman (10), #22, "and I'll remember them forever." Through wins or losses, players are just glad to have a good time with their brothers.
The football team is away Friday, October 9 against Louisville.