Making the Jump: Taking Trojan Sports to the Next Level
"The Jump" is a brief account of Platteview High School student athletes that made a "jump" in ability between the 2020-2021 to the 2021-2022 season. Student athletes face various obstacles on and off the court and field. While maintaining atheltic success, they also are challenged with balancing academics, a social life, family, part time jobs, and so much more. As a result, those student athletes that demonstrate a "jump" do not go unnoticed at PHS.
In this addition of "The Jump," we highlight seniors Justine Woracek and Dayton Swanson, and juniors Connor Millikan and Jared Kuhl.
Justine Woracek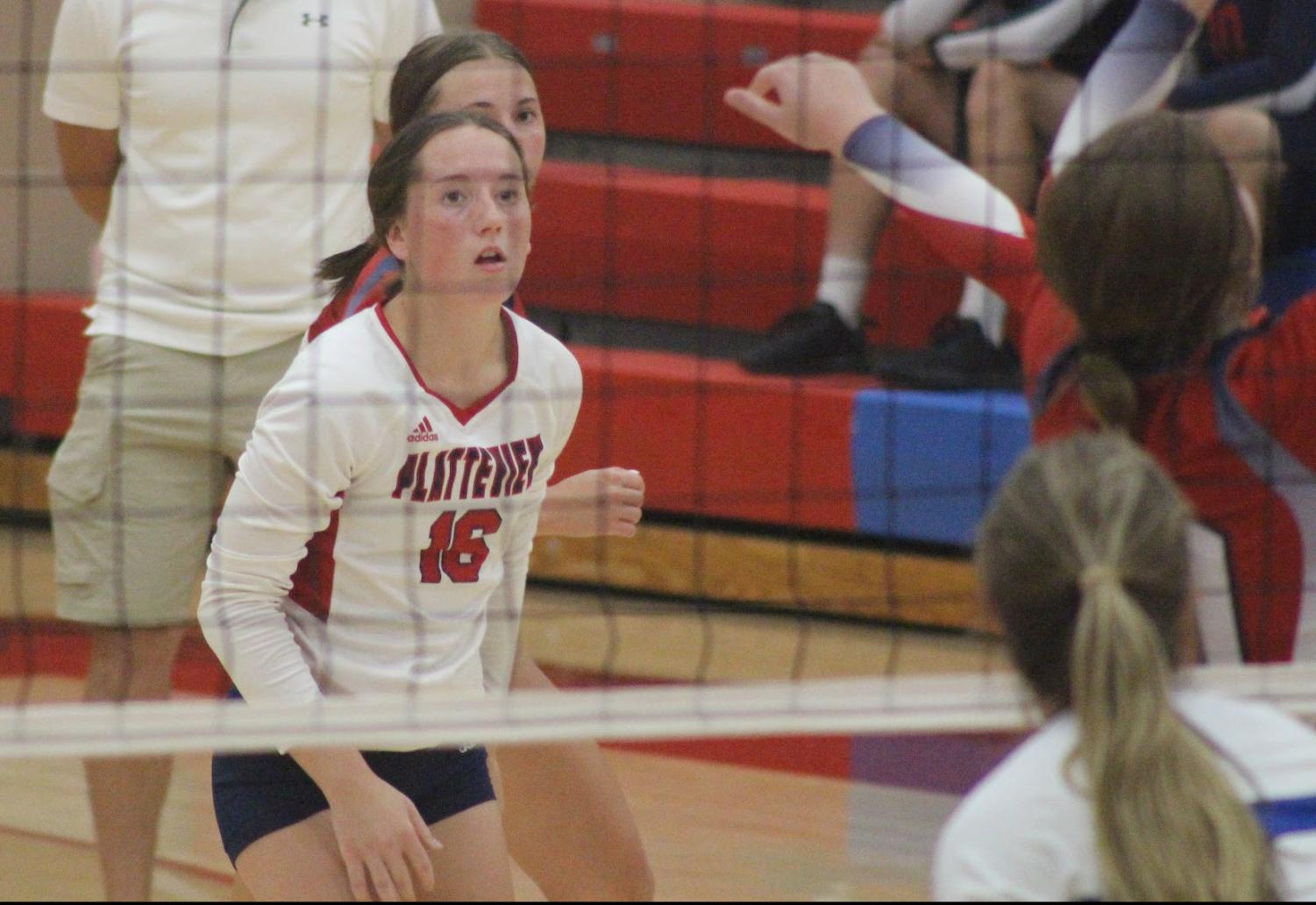 Justine Woracek (senior) has been a part of the Platteview Volleyball Varsity Team for three years and significantly impacted the program for her last two years. After the program lost six seniors in her senior season, she chose to change positions from a defensive specialist to a libero. 
Coach Shae Speth commented on Woracek's position change, "Justine had the opportunity to showcase her skills and capabilities this season, moving from a three rotation defensive specialist last year to a six rotation libero."
Woracek's stats improved after the change in her position from the 2020 season. She played sixty sets, getting 105 digs, serving the ball 233 times and getting three aces. In her senior season, she played in 73 sets, getting 326, serving the ball 547 serves, twice as much as last season. Furthermore, Woracek had thirty two aces and five kills. 
Woracek discussed her passion for volleyball, saying, "The drive to help my team and me be as successful as possible was always a motivator. I wanted to be able to benefit my teammates and be a leader for them. Especially this past season, when we're a younger team, someone needed to step up. So, that drive to be the best player I could was always present."
Dayton Swanson
Dayton Swanson has been a two-sport athlete, playing both basketball and football, throughout all of high school and has been known well in both sports. During his junior year, he started both, and in his seven games that he played at tight end, he grabbed 12 balls for a hundred and sixty two yards scoring one touchdown. In addition, he was the leading receiver for the Trojans in the 2020 season. On the defensive side of the ball, Swanson started at middle linebacker, getting twenty two tackles, ten solos, and twelve assisted with one fumble recovery. However, the defense wasn't his strong suit as he was much more effective at tight end and the connection between him and Kuhl was unmatched.
Swanson underwent extension preseason training, hoping to carry himself to the next level. He worked on route running, catching, and putting the time in the weight room for the next season. This work made him a more lethal threat at tight end. Coach Crouse, the Strength and Conditioning coach at Platteview, said, "Dayton has worked to develop himself overall in the last year, and you have seen the rewards so far in his senior year. I couldn't be happier for how he has progressed over the last year."
All of Swanson's hard work paid off as he had the best season of any tight end in Platteview history. He caught forty four receptions for 502 yards and found the end zone for five touchdowns. He was Jared Kuhl's (quarterback) favorite target, receiving one third of the passes. Swanson didn't play much defense in the 2021 season, but when he was on the field he made his presence felt, gabbing three solo tackles and thirteen assisted tackles. Swanson ended his career with the career catches record for the Trojans at 56 catches in a career.
However Swanson's successes weren't just limited to his football career. He also had major successes in Varsity Basketball. In the 2020-2021 season he played a vital role on the state tournament team. In twenty five games, Swanson recorded fifty nine points eighty eight rebounds, twenty one assists, and thirteen steals. He had many critical moments on defense guarding athletes that were bigger than him and held his own.
Entering the 2021-2022 season, Swanson put the same effort that helped him elevate his football game into basketball. This would help to carry him to the next level as he started to develop a three point shot working on it in preseason open gyms. In the twenty one games, Swanson made ten threes, all of which were vital for the teams success. He also has scored sixty seven points and two rebounds, fifteen assists, eighteen steals and sixteen blocks. He's been a full time starter at center and has made his impact on the court on both sides of the ball.
Connor Millikan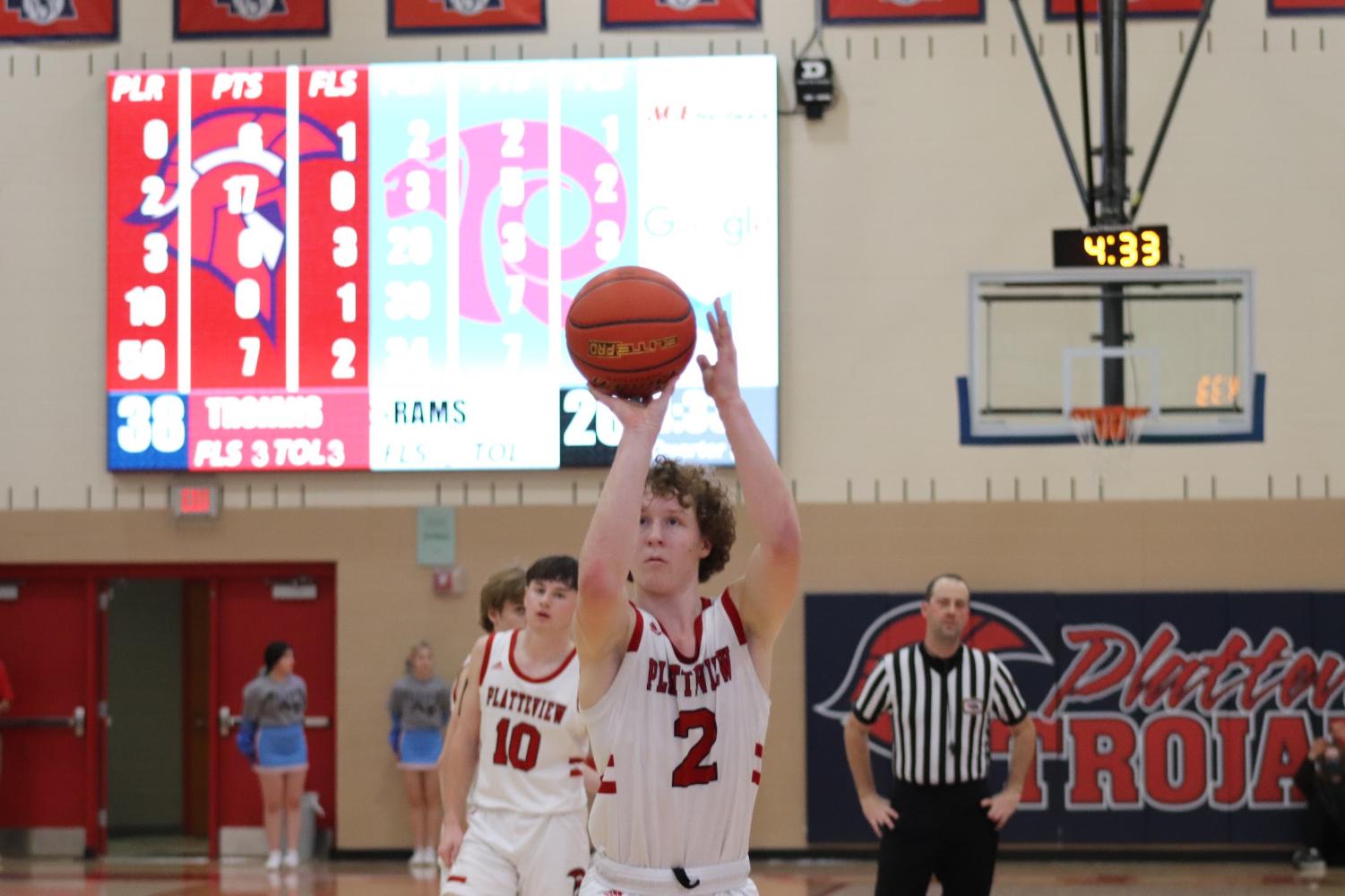 Connor Millikan has already become one of the greats in Platteview basketball and possibly even in the history of boys basketball in Nebraska. It's difficult to be better after having averages of twenty-six points, three assists, nine rebounds two and a half steals during the 2020-2021 season. He scored six hundred and sixty-six points, breaking the school record for points in a season, was an all-state selection, plus twelve double-doubles. Millikan also had the best performance in Platteview Basketball history in the DC West High School game as he had a stat line of forty two points, ten rebounds, five blocks, four steals, and three assists.
In his off season, he played for the OSA Crusaders AAU team. Millikan already had an impressive career that would have impressed many. However as he got ready for the 2021-2022 season, Millikan set his sights even higher to continue to improve his already stellar performance. One of those goals was wanting to win a state title for Coach Brotzki, who has been to the state tournament four times, without much success. In twenty one games, Millikan has already beaten his average, averaging twenty seven points, three assists, ten rebounds, two and a half steals, and one block.
As of February 20th, 2022, he has scored six hundred and forty one points, having seven-thirty point games adding on eight double-doubles. Millikan beat his career-high with a fifty five point finish in the best performance in Platteview basketball history. 
Millikan has been the best player in Class B for the last two years, and his sights are set on being the best to ever walk through the state. Furthermore, he improved his vertical by three inches and his squat by a hundred.Coach Crouse said, "Connor has consistently made training a priority within his overall development, and his progress has been fun to watch. Connor's ability to blend his sports skills with physical development in the weight room has set him up for more success."
Jared Kuhl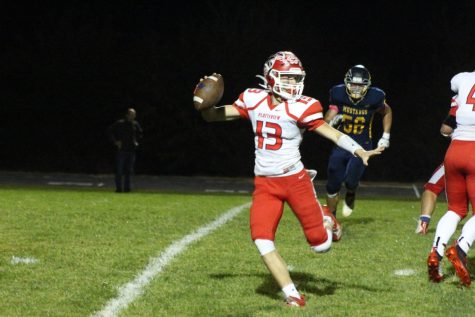 Jared Kuhl was the face of the Platteview Trojans football during the 2021-2022 season, starting all nine games at quarterback. Kuhl was a night andday different player as last year he started both ways – lining up at both quarterback and free safety. During his 2020 campaign, he threw the ball eighty-seven times, completing forty-seven of those passes, and gaining four touchdowns and four interceptions. He ran the ball thirty-nine times on the ground, rushing for a hundred and sixty yards. He was quickly the best secondary player on the Trojans 2020 defense as he grabbed twenty five total tackles, sixteen being solo, and the other nine being assisted.
Going into the 2021 season, Kuhl had been adding to his playbook, working on his passing skills, reading abilities, and decision making. Kuhl wasn't going to start at defense for the 2021 season, but it was a decision that needed to be made as if Kuhl got injured, it would break the offense. His presence would be a massive loss for the Trojan's defense.
His 2021 year was quickly the best quarterback play in the last decade as he improved in every statistical quarterback category. He threw the ball hundred and ninety-three times for one thousand three hundred seventy-nine yards; this would end in him getting eleven touchdowns and four interceptions. His quarterback rating improved from 68.3 in 2020 to 91.4 in 2021. Kuhl broke a fifty-two year old record for passing in the Raymond Central game; he passed for three hundred and sixty-seven yards.
In a game against Louisville, Kuhl carried the ball nine times for eighty-one yards, sanding two touchdowns. Kuhl improved his rushing stats to seventy three carries for six hundred and four yards for eleven touchdowns, plus four fumbles. Kuhl improved every game and made the Trojan's offense better every game as he passed six times for over a hundred yards. Coach Mac said, "There wasn't a more explosive player on our team than Jared Kuhl. He has followed Coach Crouse's workout routines by the letter, and it is producing significant results."